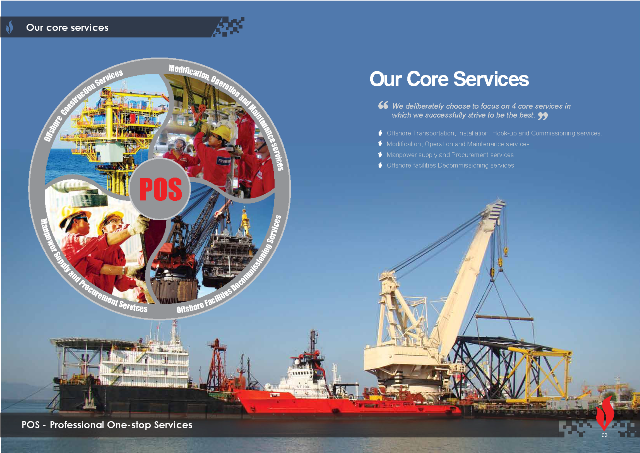 1. Modification, operation and maintenance services
Being recognized as a professional service provider in Oil and Gas industry in Vietnam, POS strongly commits to deliver the quality products for modification, operation and maintenance services for onshore and offshore oil and gas facilities, petrochemical complex, refineries, etc...
We have successfully and safely executed major Modifications & Conversions to the existing on shore/offshore facilities to extend the life of ageing facilities and maximize the output from the resource base. Over years, our great endeavour in developing and implementing modification and O&M services in safety manner has been highly appreciated and admitted by clients.
POS provides Modification, O&M services to clients such as BP, JVPC, Cuu Long JOC, Truong Son JOC, KNOC, Dai Hung POC…etc.. Our approach is to focus on the fundamentals as we seek to operate generation facilities as they were designed and intended to be operated. We hire motivated people, develop effective procedures and programs, train our employees in their implementation, and seek continuous improvement.
Our One-stop workshop is fully-equipped to provide:
¨ Structure/piping fabrication, modification and maintenance services.
¨ Electrical & instrument fabrication, modification and maintenance services.
¨ Scaffolding, painting, insulation, preventive and anti-corrosion services.
¨ Cleaning, welding, cutting and coating services.
¨ Repair and maintenance of rotating equipment and machinery services.
¨ Pump, valve and compressor maintenance and repair services.
¨ Torque wrench, bolt tensioning, pipe cool cutting services.
¨ Inspection, calibration and verification services.
¨ Hop tapping and on-line leak sealing services.
¨ Modification, overhaul & maintenance services.
¨ Shutdown and Turnaround (TAR) services.
2. Manpower supply services
With skilled and experienced workforce, POS offers and provides integrated manpower services to the petroleum production and construction services as well as to specialized services.
We provide multi-skilled workforce included but not limited to the following disciplines:
OIM

Electrical and instrument

(E&I) supervisor

Senior E&I technician

E&I technician

Mechanic supervisor

Senior mechanic technician

Mechanic technician

Production technician

Senior production analyst

Asst Production Analyst

Production Analyst

Senior Control Room Operator

Production supervisor.

Senior production technician

Control room operator

Laboratory technician

Medic

HSE officer

Materials/warehouse man

Crane driver

Deck foreman

Deckhand

Engineering engineer

Process engineer

Draughtsman

Cost control engineer
3. Offshore transportation, installation, hook up commissioning services
Thanks to our execution of a wide range of offshore construction projects since 1999 to date, POS has gain significant experiences and built up considerable expertise with offshore project management.
POS has successfully provided offshore construction services to a number of major oil and gas oilfields/facilities in Vietnam, such as:
Transportation and Installation (T&I) for Topaz and Pearl, Ca Mau gas pipeline offshore installation;

Transportation for Ca Ngu Vang, Dong Doc A,

Phuong Dong WHP

project;

Subsea Tie-in for Dai Hung Phase II and Phuong Dong Project; PM3-;

And many HUC & Commissioning projects for Song Doc A; Pearl; Topaz; Su Tu Den Northeast; Chim Sao Field Development.
To ensure smoothly execution offshore projects, we own and operate PTSC Offshore 1- the 300-men Accommodation Work Barge and PTSC 01 - The 5000 tons Cargo barge, which can be used for transportation/installation, Repairing/Modification/Maintenance and HUC of offshore facilities.
With remarkable experiences, resources and long-term relationship with many reputed offshore construction partners/ship-owners as well as, POS is capable and confident to provide offshore services with scope of provision as below:
· Transportation and Installation (T&I);
· Subsea Tie-in;
· Pre-commissioning; HUC & Commissioning;
· Accommodation, Heavy Lifting, Pipeline Laying Barges
· and Offshore Construction Support Vessels.
4. Offshore facilities decommissioning
With a view to the potential growth of Wellhead/Rigless Abandonment & Decommissioning work in Vietnam and the region, in accordance to the developing strategy assigned by PVN and PTSC, POS has signed MOU with experienced partners in order to share knowledge, experience, know-how, database, technology, and other items necessary to assist POS to develop and provide Decommissioning Services to clients.
In order to develope a team of well-trained engineers and experts, POS sent its pepeole abroad for training inclusive of on job training and special competency training as required by work scope.
POS focuses on all aspects of the decommissioning process from cessation of operations through complete removal, including dismantlement and demolition.The mentioned services included but not limited by following services:
- Cold Cutting,
- Marine Grown and Coating Removal
- High Pressure Pump
- Pipeline Repair and Maintenance
- Hydraulic Dregding Systems
- Friction Welding
- Platform & Wellhead/Rigless Abandonment and Decommissioning
- Rigless Plug and Abandonment of Wells (P&A)